The Rhapsody knows that it is important for you to have options when it comes to the vendor team on your wedding day. That's why our open vendor policy is in place – to give you the ability to love the space in all of its beauty, while still being able to hire the wedding professionals of your choice. As members of the wedding industry for over 13 years, we are familiar with the best vendors in town, so we provide all of our couples a list of recommendations – you are welcome to choose from our list or select your own.
What does an open vendor policy mean?
This means that you can hire wedding professionals in services not provided by The Rhapsody and have them service your event at our space. This could include companies such as catering, bar service, cake decorating, and more.
With everything in one place, there's no need to add stress by trying to find vendors. The recommended vendor list that we provide you includes suggestions for catering, bartending, cakes, florists, photographers, videographers, hair/makeup, officiants, DJ, photo booths (including traditional sit-down booths and full-body mirror booths), and instrumentalists such as harpists and vocalists. You will be provided the list of these vendors once you reserve your date. We would even have the pleasure to introduce them to you ourselves.
Ultimately, you contract these outside vendors separately from us, share with them our venue guidelines, and then they are welcomed into our space with open arms. The guidelines that we have are not strict, just meant to ensure that the day runs smoothly and that our space is respected.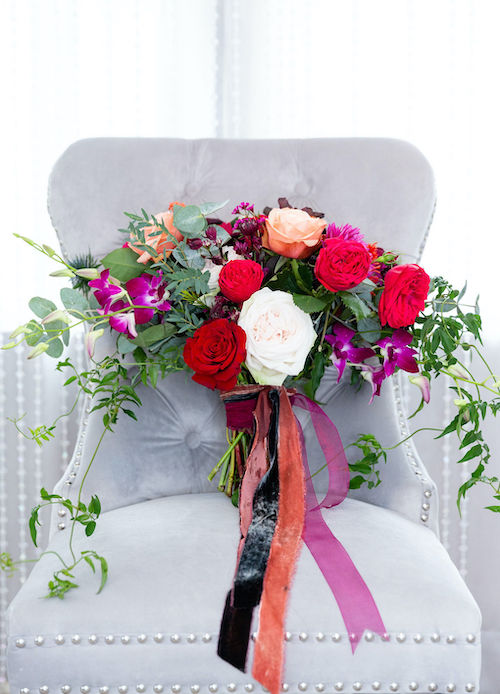 Outside Catering Companies
Catering is at the top of the list for outside companies that we work with at The Rhapsody. So, here are some guidelines we've set in place to protect you, our space, and the success of your event.
To start, all caterers must be licensed. We request that they cook the food off-site and then arrive at The Rhapsody within your rental time to serve you and your guests. We don't allow "drop-off" catering, there must be a representative from the catering at the space throughout food service to set-up, serve, and clean up after the meal. The caterer will have access to our fully-equipped on-site catering kitchen, but are requested to clean up their mess prior to departure.
Kansas City is home to many amazing caterers, we look forward to welcoming the one your taste(buds) desire!
Outside Alcohol & Beverage Service
The Rhapsody allows you to hire a bartending service or bring in your own alcohol as long as the following guidelines are followed.
Whether you hire a serving company or organize the beverage service yourself, a licensed bartender or company is required for all alcoholic beverages. You are required to provide all of your own cups, paper supplies, ice, and condiments; we will provide you with a chest freezer. Serving of alcoholic beverages must end 1 hour prior to the contracted end time of the event. At the end of the evening, all trash must be cleared, ice disposed of properly, and the bar area must be restored to a clean manner.
Other Outside Vendors
There are a wide variety of wedding professionals that are available to serve you on your wedding day. If you have any questions about hiring a particular vendor and what their guidelines may be, please do not hesitate to reach out to The Rhapsody to get clarification.
We commonly see hair and makeup providers in the Bridal Cottage, cake decorators delivering iced art, and photographers bouncing around capturing your special moments. All of these professionals are here to serve you, we just ask that they be respectful of the space and staff while at The Rhapsody.
---
Ready to schedule a tour or reserve the space for your event, reach out to us to get the details nailed down!